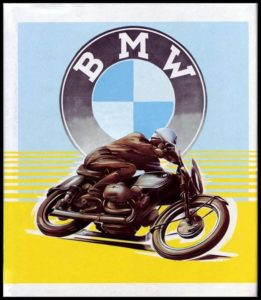 History and Founders
The Airheads Beemer Club was founded in 1991 by B. Jan Hofman (#1) and Al Watson (#2).
B. Jan produced the first copy of "Airmail," our club newsletter, in December of 1991.
The term "airhead," as it relates to BMW motorcycles, was coined by Al.
The term "oilhead," as used by the International Oilheads Club, was coined by B. Jan.

These terms have entered the motojournalist lexicon.

Our slogan, "Simple by Choice" was created by Ron Jensen.
The club logo was designed by Jan except for the smile, which was the idea of Carolyn Laronche.
Our first rally was the Feb. 1993 Death Valley Rendezvous initiated, planned, and executed by Fred Kumm #117.
Our original website was conceived and created by Mike Leonard.
The ABC continues to thrive thanks to the talents and selfless dedication of its volunteers.