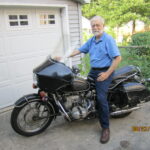 Joined: 08/24/2020 18:00
Last seen: 07/05/2023 20:33
I have been riding since the early '60s and have all my bikes.  Actually, my present '56 Harley KHK is a replacement for my 1st bike, and the only bike I ever sold.  I now have: '56 Harley KHK, '48 Indian Chief, '64 BMW R69S, '84 Moto Guzzi V65Sp, '66 Honda Touring Benly (CA95), '60 Harley XLCH, '42 Indian 841. 
I have helped form - and am still a member of - A.B.A.T.E. of Illinois, Vintage Iron Riders, Springfield Milers BMW MC.  I have been an active (and successful) advocate for motorcyclists in the courts and in the political arena.