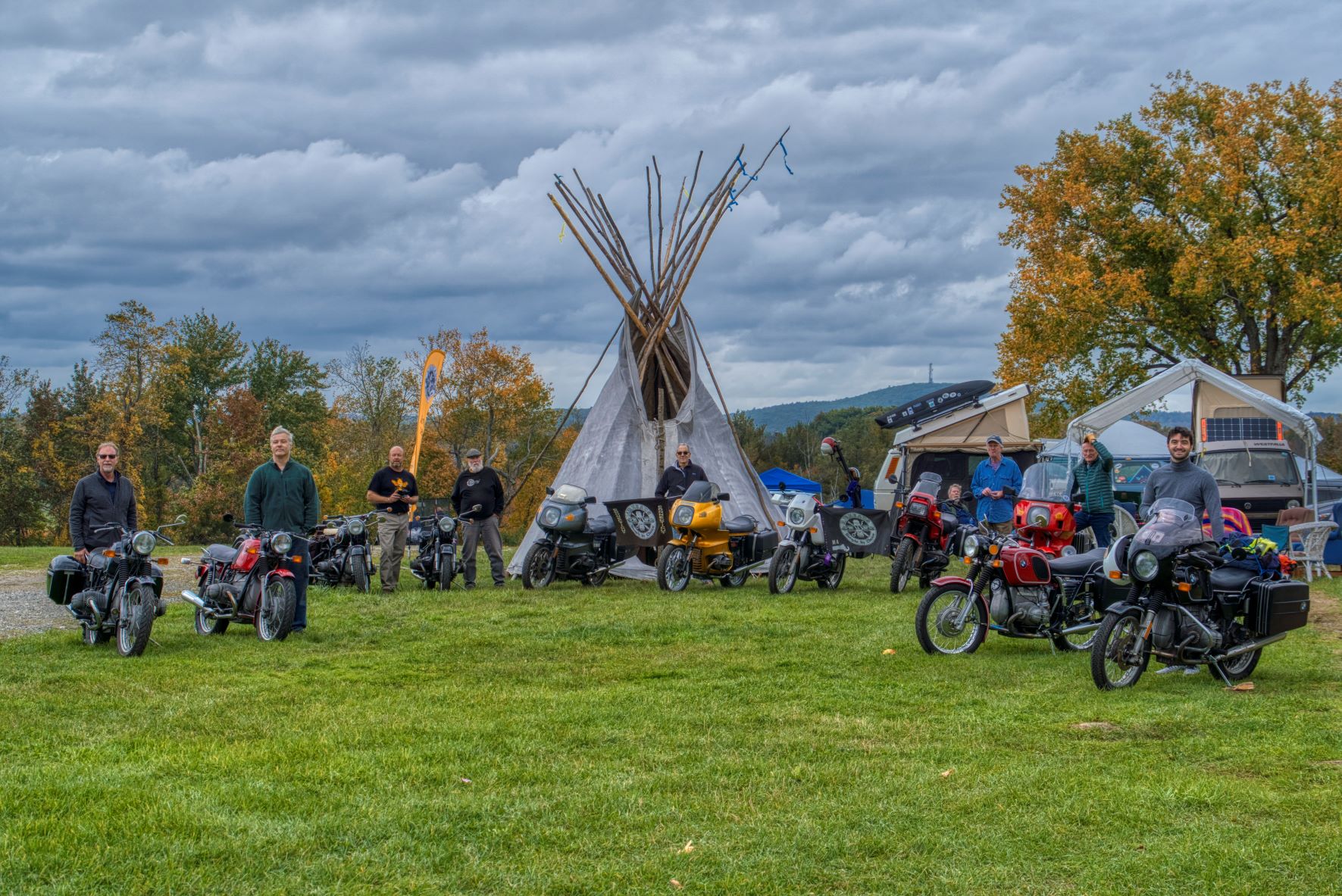 Some of you may recall my story about this festival from 2019. I discovered the festival in the process of seeking alternatives to the usual overcrowded and—in the case of Newport Folk—the elitist and over-regulated environments. 
In 2019, I attended the festival by borrowing my friend's Toy Hauler and squeezing my R69S Stieb sidecar rig into it. We enjoyed the morning rides on the wine trail roads of Connecticut and visits to local farms and distilleries for tours and home made chocolates. At the end of the festival as I loaded up my gear Larry Joy, a fellow Airhead, stopped by to chat and he was thinking exactly as I was—wow, this could make a great combination Airhead Rally, camp out, and music festival. Honestly, where can you get three days and nights of camping with hot showers, and 12 hours a day of top notch live music, not to mention the jam tents and artist-led learning sessions.
Well, the gears (in our heads) started turning right away and we began to make plans for Black Bear 2020—little did we know. Up until just a few months before the scheduled event, we still held out hope for 2020, but it was not to be and I think we are all the better for it. 
Larry hatched the idea to bring a tipi (teepee) to the event and we got the okay from Beth, the event organizer. Not only did she like the idea, she reserved an entire section of the tent camping area just for the airheads. The year that never happened (2020) passed by and we pretended it never happened and continued plans for Black Bear 2021. I ran into Larry again at the RA in North Carolina in June of 2021, and this is where he tells me that that tipi he was working on had fallen through. The Scout Troup he had lent it to reported that the poles had rotted and the canvas was eaten by mice. I broke the news to Beth and she was very disappointed, "Gray Fox used to have a Tipi, and I really wanted us to have one for Black Bear…" Well, after all she had done for us, and being the impulsive and overly energetic person that I am, I could not let it rest. I figured, how hard could it be to find or build a Tipi? So, off to Craigslist I went and sure enough, a man was selling a Tipi hand made by him, it was only a couple hours drive away. Clearly not thinking this entire thing through, negotiations were had, deals were struck and I coerced a couple other Airhead friends from MA to join me for the ride. What could go wrong, a day of touring the Berkshires of Massachusetts browsing through a motorcycle collection of yes, barn finds—a story for another time—and loading 15 – 20, 22' Tipi poles on the top of my 1985 Vanagon Westfalia for the ride back to Stow.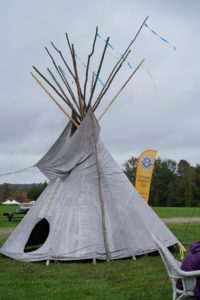 Long story short, the Tipi was erected in my back yard after fabricating 12 new poles (yes his poles were rotten too) and some patches in the canvas—1995 canvas even when stored well is still 25+ year old canvas. After learning how to set it up and fabricating all the missing poles, pegs, and stakes, the Black Bear Team came with a truck and ladder rack and hauled the 24, 22' poles from Massachusetts to Connecticut. 
Now, about the Airheads at Black Bear: The event was posted to the Airheads web calendar and printed in the Whair & When in the AirMail with the paid ad from Black Bear just adjacent to the rally details. I think some Airheads were still trying to understand why we would have a rally at a music festival, but I can tell you that none of the 20+ airheads who attended are asking that question anymore. 
I arrived a couple days early with permission from Beth. This allowed me to set up the Tipi and the AirCentral tent well in advance. We were pleased to see that our entire reserved space was open to us and due to some changes in the venue layout, the main stage and acoustic stage were both now closer to our camp, you could actually see the performers from our camp area. Shortly after I arrived, other helpful Airheads arrived – Wayne Bidwell, Larry Joy and Connecticut Airmarshal Greg Sproule. Larry helped with the Tipi setup, after all it was his idea. Greg brought firewood for the fire pits – no ground fires were allowed, but we were well stocked with 4 fire pits in the Airhead encampment, including a SoloStove fire pit inside the Tipi. Greg also assisted with the Tent setup – a 10 X 20 tent provided to us courtesy of Beth from Black Bear. The next day, Wayne and Larry showed up again each providing furnishings for AirCentral – Wayne provided some recently acquired from Craigslist luxurious blue winged arm chairs and Larry provided a set of shall we say Vintage wicker chairs. With seating, coffee table, and living room rug set, as well as a 2 burner Coleman and water supply, AirCentral was the best accommodation in camp as usual, and with the Tipi setup adjacent to the tent, we attracted a lot of attention even before we rolled out the bikes for show and gave sidecar rides to kids and old men and anyone who asked. With free run of the entire fairgrounds it was a perfect opportunity to share the Airhead lore and vibe of these wonderful machines and the fantastic camaraderie of the Airheads group.
I had about 15 Airhead RSVPs before the event, but as I said, we had over 20 riders join us. We even signed up a new member who did not know of us, and went home to get his Airhead and ride it to camp once he found out we were there. A last minute addition to the Black Bear rendezvous was a new member James Patton and his partner Anusha. They slept in a makeshift lean-to feathered to his newly acquired R80RT made from a camping tarp and BMW bike cover. When the group gathered for a ride mid-morning Saturday, James and Anusha were found sound asleep in their cozy bike tent, but he woke just in time to join the ride. Greg led the group in a twisty ride through the Connecticut hills to his shop where he curates his impressive collection of Airheads and assorted other two wheel toys. 
The music – well, I will let you browse the Black Bear website for more details on who was there, but one of my favorites who I first discovered….
This article was originally published in the March 2022 edition of Airmail. Each month's magazine includes news from the club, ride reports, technical articles on a range of airhead topics, and more. Get the magazine by becoming a member of the Airheads Beemer Club! Join the Airheads here!